2021
Education Foundation Dinner Reception
Honoring 2021 Teachers of the Year / Beacons of the Year
Wednesday, January 26, 2022
The Chillicothe Education Foundation fundraiser at the home of Ed Milbank raised almost $25,000 to assist the Chillicothe R-II School District during a challenging year! The fundraiser was held Wednesday night, January 26, 2022; and Ed Douglas, Board President, and other board members and attendees used the occasion to celebrate the Beacon and Teacher of the Year nominees and winners. Douglas thanked their host, Ed Milbank, a CEF board director, for providing his home as the venue for the event and the dinner for the evening.

Teacher of the Year & Beacon Award Winner Announced
Nominees From Each School Presented
Monday, January 3, 2022
Laura Schuler, Secretary to the Board of Education & Superintendent
Numerous Chillicothe R-II Staff members were honored today for their years of service and for excellence in the District during the annual service and awards program held at the Gary Dickinson Performing Arts Center. The event culminated a day of professional development for teachers and staff members. Chillicothe Education Foundation President Ed Douglas handed out the awards to the nominees from each building and presented the top awards - Teacher of the Year and Beacon Award to Dewey School's fourth grade teacher, Andrea Beck, and Field School para-professional, Kimberly Taylor, respectively.
ANDREA BECK 2021 TEACHER OF THE YEAR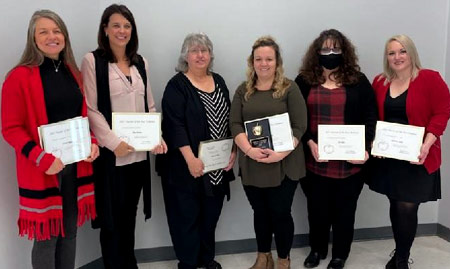 Nominees for the Teacher of the Year Award were: Janice Shaffer, GRTS; Amy Adams, CHS; Diane Pittman, CMS; (Andrea Beck, Dewey School, TOTY); Jill Allen, Field; Adrienne Allen, CES.
KIMBERLY TAYLOR 2021 BEACON AWARD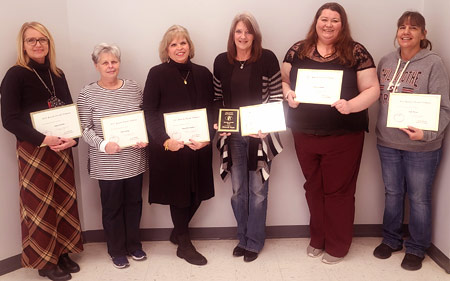 Beacon Award nominees were: Kristi Newlin, District Office; Tamy Ewing, CES para-professional; Mary Jane Stephens, GRTS para-professional; Kimberly Taylor, Field para-professional (winner); Crystal Lehman, CMS para-professional; and Julie Moore, Dewey custodian. Not Pictured: Lisa Wilson, CHS Secretary
"We are so grateful for the Chillicothe Education Foundation's support so that our outstanding teachers and support staff can be recognized for their dedication to the District's students," Dan Wiebers, superintendent said. "We are very blessed to have such a great staff working hard to do their jobs and exceed all expectations."
The presentation followed the recognition of staff members who have earned service pins. Bill Hayen, Treasurer of the Chillicothe Board of Education, handed out the pins. Members of the R-II Staff who were recognized for their years of service were as follows:
5 Year Pins: Lily Pyrtle, Brenda Baker, Fallon Forbes, Carla Kelly, Mary Jane Stephens, Chrstine Shearer, Brandon Duckworth, Eric Menconi, Anna Plattner, David Slater, and Cinda Maasdam.
10 Year Pins: Kelly Griffith, Mandy Gaston, Lindsey Goad, Heidi May, Shaylee Rademacher, Jamie Sullivan, Abby Smith, Neal Wolf, Ruth Summer, Michael Jones.
15 Year Pins: Tiffany Acree, Lisa Rule, Kari Snyder, Stacy Surbewr, Rachael Wheeler, Brooke Wolf, Sarah Cavannah.
25 Year Pins: Laurinda Davison, Michael Haslar, Ruth Musselman.
A reception for those recognized was held following the program in the performing arts center's lobby.