The Chillicothe Education Foundation was formed in 1992 to encourage the highest educational standards in the Chillicothe Public Schools and to increase community pride in those schools. Established to provide financial support for enrichment programs and activities where needs are determined, the Foundation receives and administers gifts and bequests which shall benefit education in the Chillicothe R-II Schools. Donations to the Foundation are tax deductible.
Foundation Board
Ed Douglas, President; Mike Turner, Treasurer; Lindy Chapman, Ad Hoc School Board Member; Dan Wiebers, Superintendent; Susan Fair, Director; Edward P. Milbank, Director; Dr. Bruce Brodmerkle, Director; Julie McCoy, Director; Inger Young, Secretary; and Trent Miller, Director.
Professional Development
Technology
Library Materials
Teachers of the Year (photos and details)
Charles Epps 1992-93
Terri Critten 1993-94
Bill Maupin 1994-95
Pat Nichols 1995-96
Nancy Zelmer 1996-97
Kathy Breeden 1997-98
Greg Thurmon 1998-99
Janet Zion 1999-2000
Linda Fox 2000-01
Marsha Leopard 2001-02
Jayme Caughron 2002-03
Debbie Goodwin 2003-04
Larry Vance 2004-05
Rosie Smith 2005-06
Keith Dietzschold 2006-07
Tami Riekena 2007-08
Dave Goodwin 2008-09
Tammy Price 2009-10
Ellen Gott 2010-2011
Christine Jones 2011-2012
Tim Riekena 2012-2013
Billie McGraw 2013-2014
Terria Cox 2014-2015
Sophie Chambers 2015-2016
Pam Miller 2016-2017
Anne McKiddy 2017-2018
Stacy Surber 2018-2019
Jenny Hughes 2019-2020
Lisa Rule 2020-2021
Andrea Beck 2021-2022
Reid Stephens 2022-2023
Beacon Awards
(photos and details)
Gary Eide 2007-2008
Ron Rader 2008-2009
Lesa Lee 2009-2010
Rick McCully 2010-2011
Laurinda Davison 2011-2012
Carla Meyers 2012-2013
Dave Sheler (Central) 2013-2014
Anita Coult (GRTS) 2014-2015
Mike Lewis (CHS) 2015-2016
Kathy Midgyett (Central School) 2016-2017
Lisa BeVelle (Grand River Technical School) 2017-2018
Jeanette Johnson (Middle School Secretary) 2018-2019
Evet Meierer (CHS) 2019-2020
Emmalee Oliver (Dewey School Secretary) 2020-2021
Kimberly Taylor (Field School Para-Professional) 2021-2022
Chris Shearer (Field School Secretary) 2022-2023
Visit the Education Foundation News page for photos and information on these recipients and other news.
Education Foundation Land Acquisition
The Chillicothe Educational Foundation took a significant step in supporting Chillicothe R-2 School District's future by securing enough land to someday accommodate an entire educational complex. The land amounts to 61 acres and is located north and northeast of the existing high school.

Foundation officials as well as school representatives and donors gathered on a small plot of land overlooking the new acquisition during a celebration ceremony held at 10:30 a.m. on Friday, May 30, 2003. For complete details, visit our News page.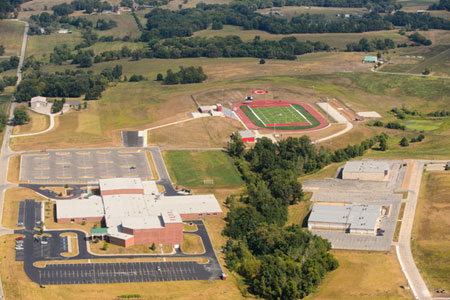 Photo / Butch Shaffer 2013
Aerial view of the land donated to the Chillicothe R-II School District by the Chillicothe Education Foundation.
Pictured: The completed high school complex and the stadium built in 2013.